Summer break is here, and your children are probably celebrating, picturing months of sunny weather and fun activities, of sleeping in later, and enjoying days without the stress of homework. And, while there is nothing wrong with celebrating, it's important to keep your children on a summer schedule—and this post will share how and why.
First, you'll need to evaluate who needs to go where, at what time. This can include schedules for childcare, summer camps,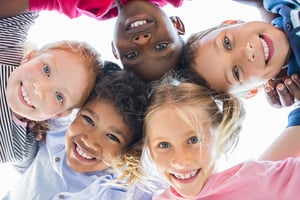 sports and other extracurricular activities, and so forth, with some families having more time built in for leisure than others. Once you fill in your family calendar with commitments, you can craft your summer schedule around that information.
In general, children simply do better with a daily routine, even if it won't be exactly the same as when school is in session. According to ChildrensMD.org, maintaining structure during the summer months can "help your child stay on a regular sleep schedule, promote regulation, and help them better transition back to school in the fall."
Although you might want to offer up more flexibility on, say, the weekends, the more that your children stick to the familiar, the easier it will likely be for the entire family, overall. As an article in ChildMind.org points out, a daily routine can be even more important for children with social and/or developmental issues.
Elements of your children's summer vacation routine can include a regular time to wake up each morning, and a standard routine that includes eating breakfast at a certain time and getting dressed at a scheduled time. Snack times and other meals time can be structured, as well, and then you can think about how to manage time that isn't earmarked for specific activities.
This can include time for daily chores, time to play with siblings and friends, and so forth. It's important to leave some time for more spontaneous fun activities, while keeping to an overall consistent routine. It can also make sense to establish limits for screen time, perhaps allowing a certain number of minutes per day on television, electronic games, smart phones, and so forth and/or setting rules for when that screen time can take place.
An expert quoted by SeattleChildrens.org suggests that you keep screen time during summer break to less than two hours daily, while also making sure that children get at least an hour of physical activity every day. Ideas suggested in the article include bike rides, family hikes, and so forth. You can enjoy time together at a playground or park, and you might even want to go on a camping trip together.
Remember to also encourage mental stimulation, because some children can experience a learning loss when not in school. If the library is nearby, you could walk there together to choose books to read, which helps to keep your children both physically and mentally active and alert. You can also use screen time to watch educational programs and play learning-friendly games, go on nature walks and talk about what you see, visit child-friendly museums, and so forth.
The overall advice provided by SeattleChildren.org is as follows: "Remember to have fun this summer. Take a break, relax in the sun, but incorporate structure into a child's summertime schedule."