Summer can be the ideal season for family fun, and the good news is that it doesn't have to cost an arm and a leg. In fact, many of the best summer activities for your children are either free or low-cost. Here are four ideas to consider.
Watching the Big Screen
If you're looking for a nostalgic trip to the past, consider taking your family to a drive-in movie theater. There are still several open in Northeast Ohio, usually at great prices. Drive-ins usually have concession food available and some may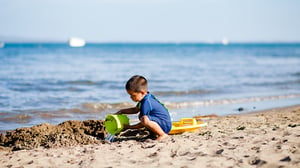 allow you to bring in your own, perhaps charging a small fee per car.
You can also check to see if communities around you are offering free outdoor movies under the stars, perhaps in a local park. Here are some Ohio options broken down by county. Families spread out blankets, bring coolers and enjoy the evening. Sometimes theaters offer free indoor movie nights. The films usually aren't the latest releases, but these nights often come with games and prizes.
Plus, there are plenty of $1 movie options this summer.
Books and More at Libraries
Check your local libraries to see what fun summer events they're offering. Most of them offer summer reading programs where your children are challenged to read books and then they're rewarded with prizes and a party. This is an excellent choice to consider because it's free, and because the books chosen can teach your kids new and wonderful things in a fun way.
Libraries typically offer plenty of other summer activities for kids, whether it's a craft, opportunities to learn about bike and water safety, and more. Browse through what many of the libraries in Lorain County are offering, and here's what's available at Cuyahoga County libraries (you can use filters on the Cuyahoga County page to find kid friendly choices).
Build Sandcastles
With access to the beaches of Lake Erie, plan a beach day and dig in. The beauty of building sandcastles is that you can make it very simple or you could use it as a fun opportunity to teach your kids how to plan a more elaborate structure. If you'd like to create something fancy, here are sandcastle secrets, with the final advice being that the "perfect" castle is not the one that's most expertly carved. Instead, it's the one where you have the most fun possible building as a family. Imagination "can smooth over any cracks in walls or wonky towers. Make it a team effort and you can't go wrong."
Study the Stars
There are plenty of ways to do this, several of which can be great summer activities for kids. You could go stargazing as a family, or if that would take place after the bedtimes of your younger children, there are more options to enjoy.
MyKidsAdventures.com recommends books to read and activities to participate in together. Here are a couple of the suggested books:
You can also print out this calendar and track the waxing and waning of the moon.
Plus, for a relatively cheap price, you can take your children to Ohio planetariums.