South Side Pride is a community collaborative working to sustain a healthy and safe community for fifth- through eighth-grade students and their families in South Elyria. Seven community organizations have partnered to provide services both in school and during those crucial out-of-school time hours. These partners include Big Brothers Big Sisters of Lorain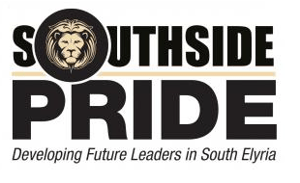 County, Catholic Charities, Elyria City School District, Elyria Parks and Recreation, Elyria Public Library, Horizon Education Centers, the LCADA Way and United Way of Greater Lorain County.
South Side Pride provides quality after-school and summer programs that offer healthy food choices, academic enrichment, physical activity opportunities and leadership development, along with healthy lifestyle and prevention services.
Summer Opportunities:
Reach and Rise Discovery Camps for Grades 6-8
21st Century Innovation & Recreation Camp, June 24-28, East Recreation Center, 7:30 a.m. to 4:30 p.m.
Extreme Adventures Camp, July 8-12, South Recreation Center, 7:30 a.m. to 4:30 p.m.
Explore Lorain County Camp, July 15-19, East Recreation Center, 7:30 a.m. to 4:30 p.m.
Young Entrepreneurs Camp, August 5-9, Lorain County Urban League, 10 a.m. to 2:30 p.m.
The fee for camp is $10 per camp for Elyria residents. Go to www.cityofelyria.org/department/parks to register.
TechCorps Lego Robotics July 15-19, Cascade Horizon 8:00 a.m. to 4:00 p.m.
This camp is free. Breakfast, lunch, and snack provided. Transportation to and from camp within Elyria city limits will be provided as well. Register here: https://forms.gle/zMiZJEvpjYgCv49j7
Elyria Public Library
Elyria Public Library System's summer reading program is for all ages and lasts until July 31. Prizes include Legos, tablets, telescopes and more. You can sign up at any branch of the Elyria Public Library System, online at https://elyrialibrary.beanstack.org or you can download the Beanstack app.
Fall 2019 opportunities:
FREE daily after-school programming at East Recreation Center from 3 to 6 p.m.:
Tutoring by licensed teachers to facilitate homework help and hands-on curriculum math and reading lessons.
Health and wellness activities such as healthy cooking, basketball, dancing and yoga.
Social skill development such as anger management, leadership development and team building.
Transportation on the Pride Ride between community partners and to central points within the community at the end of the program day.
To register for our fall after-school program at East Recreation email Dustin English denglish@horizonohio.org
Elyria Public Library
We will have many fun and educational programs at all of our branches this fall. Visit http://elyrialibrary.org/ for more information. Youth will enjoy after-school activities at the new Elyria Public Library System's South Branch.