If your child is complaining about back pain, or shoulder and/or neck pain, it may be that his or her backpack is too heavy. According to KidsHealth.org, your child's backpack should weigh, at most, the equivalent of 10% to 15% of his or her body weight.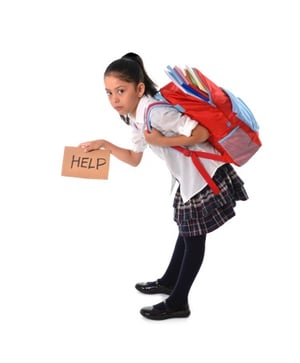 Is that what's really happening? The video included in this article by Today.com makes it clear that, no. Children are definitely wearing ones that are too heavy for them, with at least 14,000 children treated annually for injuries associated with backpacks, which breaks down to nearly 80 for each day of the school year.
Here are more specifics, both about the problem and about how to help prevent injury.
The Risks of a Heavy Backpack and What You Can Do About It
First, here's more about the risks.
If your child's backpack is too overloaded and then placed poorly on the shoulders, the weight can pull him or her backwards, which may cause your child to bend forward in a way that leads to spine compression, causing pain. If your child uses just one shoulder to carry the backpack, that can also cause muscle strain and pain.
Improper use of the backpack can lead to bad posture and even interfere with nerves and circulation, causing numbness, tingling and weakness in arms and hands.
Also, when your child wears a backpack that's too heavy, he or she will walk somewhat differently, increasing the risk of falling, especially on staircases. Your child may accidentally bump into other students because the backpack is so large and, if your child needs to set the backpack down on the ground, someone can easily trip over the pack—either your child or a classmate.
As far as what you can do to prevent injury, step one is to make sure your child's backpack doesn't exceed the ideal weight (10-15% of body weight, max) described above. When your child carries his or her belongings in a pack that's really what a backpack should weigh, it will be more comfortable, and the contents will be much less likely to strain muscles.
Also teach your child how a backpack should be correctly positioned so it doesn't strain muscles. The top should not be lower than your child's shoulders, and the bottom shouldn't be more than two inches below the waist. A doctor quoted by USNews.com shares more tips, including that:
the two shoulder straps should be both wide and padded

straps going around the waist and chest are needed to appropriately distribute the weight of the pack's contents

when your child is putting what he or she needs into the backpack, the heaviest items should be near the bottom, and as close to the center of the pack as possible

packs should be very tight on your child's back, actually hugging it
The National Safety Council offers even more tips for a child who wears a backpack, including that it should contain multiple compartments, because this distributes the weight more effectively. And, although a nice roomy backpack may initially seem like the best purchase, the more room that's available, the more room your child may be tempted to fill. As another tip: help your child decide what it makes sense to carry and what can be left at home.
Finally, what about choosing a pack with wheels? Is that a better choice to help prevent injury? Again, they may initially seem like a good idea, but they present greater tripping potential, so should only be used by children who physically can't carry backpacks.