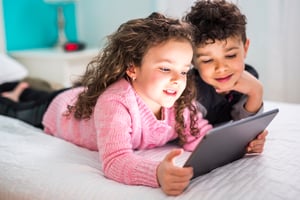 Two sentences found in an article on SafeSearchKids.com clearly state the main goal and challenges associated with creating an environment of safe online activity for children.
Here's the goal: "Internet safety should be the first priority of any parent or guardian when seeking protection of children online."
And the challenge: "It certainly can be a balance to juggle freedom on the internet with a safe level of online restrictions."
For young children, you can manage online activity with one main rule: internet use is only allowed in the presence of a trusted adult. Beyond that, what internet safety strategies can you use to protect your children?
KidsHealth.org shares how many internet service providers (ISPs) provide parental controls that give you options on what your children can access online. CommonSenseMedia.org provides readers with plenty of parental controls to consider, including software that restricts personal information from being shared online, blocks access to certain sites, and monitors online activity. No two choices are exactly alike, so it's best to research your options.
KidsHealth.org also offers plenty of safety tips for online usage that help to teach children how to use the internet responsibly. The No. 1 rule should be that all rules set up by the family or internet service provider must be followed. Your family rules depend upon the ages of your children, so tailor them accordingly.
Among your safety tips, include the importance of NOT posting or sharing personal pictures or revealing personal information, including the names of schools, addresses or phone numbers. Have your children use screen names that can't easily be connected to your family and tell them to share passwords with parents only.
Talk to your children about what to do if they ever feel uncomfortable about what happens online. This could include someone asking children to meet with them in person, or if any sort emails, posts or texts feel scary or threatening. Let your children know that it's safe to share what happened with you and that you'll solve it together. Also, keep your computers in an area where a trusted adult can manage internet usage, rather than in your children's bedrooms.
You can also find videos about internet safety on CommonSenseMedia.org, along with answers to frequently asked questions, segmented by your child's age. NetSmartz.org also offers helpful online safety tips, including
Conversations about internet safety are not a one-time deal. Keep discussing the topic in age-appropriate ways.
Limit how long your children can stay online.
Let your children see how you use the internet and ask them to show you what internet activities they enjoy.
Remember to also monitor the usage of mobile devices, including phones and tablets. Pay attention to online gaming participation.
Finally, ask your children questions, such as examples of good online safety strategies, what they consider personal information and how they keep it private, how they would respond if someone asks to meet them in person, and so forth. Also ask what trusted adults they feel they can talk to if they get into a scary situation.
The internet can be a beneficial learning tool. Using smart strategies to keep your children safe while online will go a long way in maximizing opportunities available to them while also protecting them.