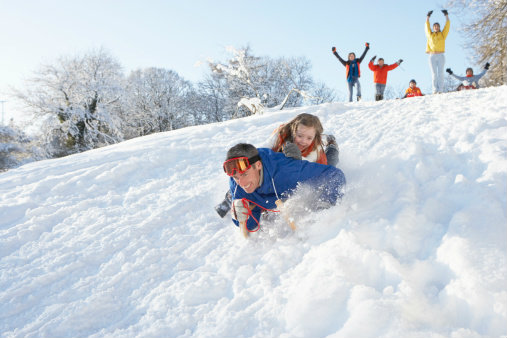 After the whirl of holiday activities calms down, children (and sometimes even adults!) can get bored. Fortunately, there are plenty of fun activities for families in Northeast Ohio this winter, with 100 of them listed by NortheastOhioFamilyFun.com. Here, we take a deeper look at two of their suggestions. Be sure to check out the list for many more!
1. DiscoveryWorks
Located at the Avon Lake Public Library, DiscoveryWorks "provides a place where people of all ages can explore a variety of multi-sensory experiences to enlighten and enhance their lives." Hands-on displays are divided into two separate areas: one is for babies to children aged 7, with the other area providing activities for children ages 8 and up.
DiscoveryWorks is located at 32649 Electric Blvd. in Avon Lake. Check the website or call the library for hours; at the time of writing, the center is open several hours a day, Monday through Saturday, plus Monday and Tuesday evenings, but hours may be subject to change.
A wide variety of interesting activity bags and kits can be checked out for 21 days. Activity kits for children, ages preschool to grade 2, include many choices, such as:
Mixed-Up Chameleon Kit: two chameleon puppets teach about differences
Metamorphosis Kit: a morphing puppet teaches the frog life cycle
Moon Exploration Kit: exciting info from an astronaut and from the space shuttle
Backpacks for children in grades 3 and up include these choices, among others:
Rock and Fossils Kit, with samples of each plus a rock tool set
Spy Adventure Kit, full of espionage as your child enters the world of spies
Shells Kit: more than 30 shells to study from sea floor animals
Plus, through a grant from the Institute of Electrical and Electronic Engineers, 11 science kits have been purchased for general circulation, where children can learn about robotics, current and static electricity, electronics, alternate energy sources and more.
For young children, these kits are recommended:
Hexbug Nano Hive, where children ages 3 and up can work through a variety of mazes with adult supervision
Kid K'Nex Creatures, where children ages 3 and up can create creatures from pieces in a kit with adult supervision
Polydron Mighty Tub, a building project using pieces and parts of various shapes and sizes for children ages 5 and up
2. Snow Sledding
Sledding is a favorite activity for kids of all ages, and Northeast Ohio Family Fun has compiled a list: "From state parks to top neighborhood hills, browse through the list of top sledding spots organized by county." There are approximately two dozen listed in Cuyahoga and Lorain counties alone, along with other spots in these counties: Columbiana, Erie, Geauga, Lake, Mahoning, Medina, Portage, Richland, Stark, Trumbull, Tuscarawas and Wayne.
Before your children begin to sled, make sure the hill you've chosen is "easy to climb back up, without rocks, trees or other obstructions that might make the downhill ride dangerous. In the city, make sure you stay clear of roads or areas with cars."
Dress your children warmly in waterproof clothing that allows them to move easily. Include snow boots, hats and gloves. North Shore Pediatric Therapy also recommended eyewear to protect your children against "snow-reflected sunlight and flying wintry mix."
The therapy center lists these benefits of sledding as a family:
Builds endurance, cardiovascular fitness and total body strength
Encourages core stability and control
"Being outdoors this winter and sledding will boost little hearts, refresh little minds and promote teamwork between siblings. This simple, free and fun activity on a snow-covered hill will be sure to send spirits soaring, and create bonding experiences you and your children will talk about and remember for years to come."
Looking for more ways to enrich your child's learning and life? Horizon Education Center provides affordable quality care including educational and enrichment opportunities for children in the following Northeast Ohio locations.