If you're looking to start the day with healthy breakfasts that are quick, easy and family-friendly, you can find 21 different recipes in just one collated article at Buzzfeed.com. We'll share two of them here, including this fun twist on scrambled eggs, shared by MrBreakfast.com.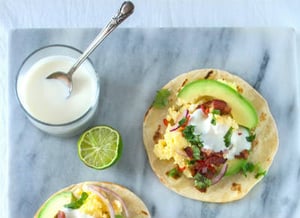 Egg and Cheese Tortillas
These two-minute breakfast burritos are actually made in the microwave. After spraying a microwave-safe bowl with cooking spray, beat two large eggs in a bowl and microwave them for about 90 seconds, stirring every 30 seconds. You now have an egg patty to cut in half. Place a piece of egg on a tortilla, along with a slice of Cheddar or American cheese. Fold or roll up and microwave for another 20 seconds. And, if you like salsa, add some! You can also add pre-cooked bacon or leftover crumbled sausage.
Breakfast Banana Pops
This idea, published by ChocolateCoveredKatie.com, shares multiple ways to creatively modify this healthy breakfast idea, depending upon what your children like to eat and what's available in your cupboard and refrigerator. (Note how some versions create more of a healthy breakfast than others!)
The recipe calls for bananas, with each banana making two breakfast pops, and it notes how you could instead use strawberries or pineapple, or another fruit of choice. To make these pops, pour granola in a very shallow dish (or use graham crackers or cookie crumbs). Then peel two bananas, slicing them in half, putting a popsicle stick in each.
Coat bananas with yogurt, with the recipe recommending Almond Dream, Silk or something similar. Roll in granola and then top with add-ons of choice, which could include raisins, shredded coconut, mini-chocolate chips or cinnamon sugar. Place these coated bananas on a tray lined with wax or on parchment and freeze.
Overnight Caramel French Toast
With just a bit of prep work, the French toast recipe found at Health.com will provide your family with a delicious way to start the day. To get started, simply put a cup of light brown sugar, packed, plus ½ cup of light corn syrup and ¼ cup of butter in a small saucepan, cooking over medium heat until bubbly, stirring constantly (about five minutes). Spray a 13x9-inch baking dish with cooking spray, and pour in this mixture. Next, arrange ten pieces of soft French bread over this mixture in a single layer.
In a large bowl, combine 2 ½ cups of 1 percent milk, along with these ingredients:
1 T all-purpose flour
1 ½ t of vanilla extract
¼ t salt
Two large eggs
Whisk together and then pour over the bread. Cover the uncooked French toast and refrigerate for at least eight hours. In the morning, preheat your oven to 350° and, before baking the mixture, mix together two tablespoons each of cinnamon and sugar, sprinkling it evenly over the bread. Bake for 50 minutes and let stand for five to cool.
Kitty-Cat Oatmeal Bowl
Our last healthy way to start the day recipe comes from EatingWell.com. In a small saucepan, combine one cup of reduced-fat milk with ½ cup of old-fashioned rolled oats. Start cooking on medium-high and then reduce to a simmer, stirring often until the mixture is thick (about five minutes). You can then add a teaspoon of honey or pure maple syrup.
Transfer the mixture to a bowl and make a kitty-cat face using a medium-sized strawberry, with one cross-wise slice off the top and the remainder cut in half, lengthwise; two round slices of banana, plus four pieces cut in matchstick-style—and two blueberries for eyes. If you click on the EatingWell.com link, you'll see how simple these cute, fruity decorations really are!