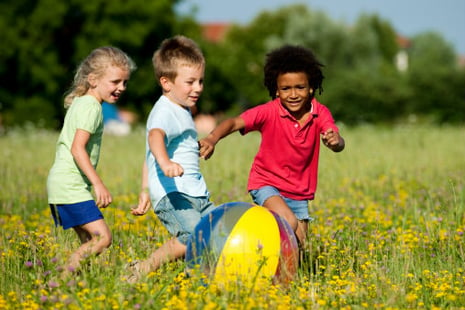 If your preschooler has so much energy that he or she sometimes seems to bounce off the walls, know that it isn't unusual. But if you have a calmer, quieter preschooler—or one who loves to watch television, play video games and the like—you may wonder how much physical activity is necessary to be healthy and fit. Good question! According to KidsHealth, it's recommended that each day, a preschooler gets:
60 minutes or more of structured physical play led by an adult
60 minutes or more of unstructured free play that involves physical activity
Structured play could include playing wheelbarrow, where you hold your child's legs and he or she walks on hands only, throwing paper airplanes, balancing bean bags on your heads while walking through a simple obstacle course and similar activities.
It's also recommended that your child NOT be inactive for more than one hour at a time except when sleeping. Time spent watching television, playing video games, being on the computer and so forth? No more than one to two hours per day.
Heart-Healthy Foods
It's never too soon to get your child eating a healthy diet, and Kid-Fit.com provides a fun art project that helps your child learn what foods are good for the heart. You just need the template provided at the site, plus scissors, crayons, a paper punch and yarn. Your child can color the template that contains healthy foods like carrots, potatoes, peas and more, but NOT color a food that isn't so healthy, such as french fries.
If your family follows the 80/20 rule—80% of food eaten is healthy, while 20% can be treats—then this would be a good time to help your child figure out which foods belong in which category.
WebMD offers more guidance, saying that active preschoolers can burn as many calories as grown women, so counting calories shouldn't be the focus. Instead, focus on making sure he or she eats "lean meats, poultry, seafood, eggs and legumes; whole grains, such as whole-wheat breads and cereals; at least two servings of dairy foods daily; and fresh or lightly processed fruits and vegetables." While treats should be limited—and while it makes sense to keep cookies and candy out of the house for the most part—forbidding treats altogether can have the opposite effect, making your child "intensely attracted" to them.
More Fun Activities
SheKnows.com offers suggestions that will provide your preschooler with a combination of aerobic activity, muscle strengthening activity and bone-building activity:
Moderate-intensity aerobic activities: bike riding and brisk walking
Vigorous-intensity aerobic activities: jumping rope and a running game of tag
Muscle strengthening: tug-of-war and swinging on playground equipment
Bone strengthening: hopscotch and skipping
At last year's summer camp, here are just some of the activities and field trips enjoyed by children that kept them active and engaged:
Pioneer Waterland
Greater Cleveland Aquarium
Animal Safari Park
Akron Zoo
Visits to parks
Swimming in pools
Our recommendation? Sign up for Horizon Education Centers' 2016 summer camp. Your child will end up having so much fun that it won't even feel like exercise!
It's hard to believe, but true: Summer is just around the corner. We'd love to talk to you about your summer camp needs, so be sure to visit Horizon Education Centers.