11.3 million children are unsupervised after school in the United States. Afterschool programs help keep kids safe, allow them to develop skills and help working families.
Lights on Afterschool is a nationwide event celebrating afterschool programs. The event is organized by the Afterschool Alliance in order to draw attention to how afterschool programs support students and families.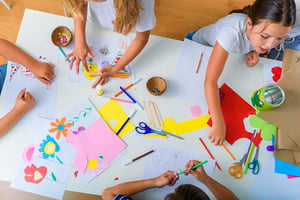 The Lights on Afterschool event was launched in 2000, and today it boasts more than 8,000 rallies nationwide. This year's Lights on Afterschool will be held on Oct. 22, and Horizon will participate. We'll have Halloween-themed activities for children and families.
Afterschool Programs at Horizon
Our school-age programs provide a place for your child to achieve academic success while you work or go to school. Before and afterschool programs are available when school is in session.
High-quality afterschool programs like the ones at Horizon provide benefits like:
Enhanced social skills
Homework help
Improved academic performance
Opportunities to develop interests like art, music, and science
A safe environment
Learn more about our afterschool programs and join us on the 22nd.